Learn How To Surf at Choco's Surf School in Sámara Beach, Costa Rica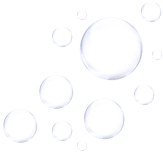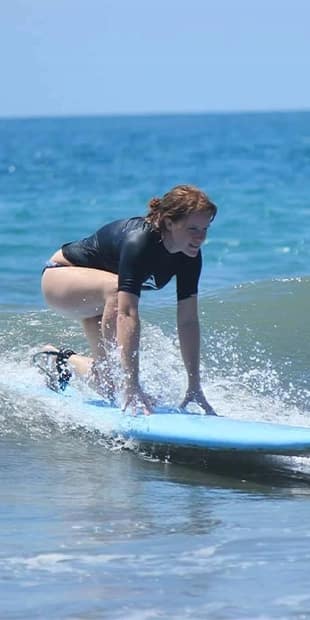 Learn How To
Surf

With Us
Our surf school offers professional, safe, and fun surfing lessons for all skill levels, from beginners to advanced surfers.
At Chocos Surf School, we are dedicated to providing a safe and fun environment for our students to learn and grow. Our goal is to help you develop the skills and confidence to become a lifelong surfer.
Come join us for an unforgettable surfing experience in Samara Beach in Costa Rica!
Introductory Lesson
Easy Payments
Certified Surf Instructors
Modern Methods
15+ Years Experience
Introductory Lesson
Easy Payments
Certified Surf Instructors
Modern Methods
15+ Years Experience About Us
We are
Choco's Surf School
Choco's Surf School is located in Sámara at a 7 km long white sand beach framed by mountains and the striking Chora Island.
Since the bay of Sámara is largely protected by an outer reef, the waves are easy to catch and are perfect for beginners. Our surf school and the beach of Sámara are recommended as one of the top surfing beaches in Costa Rica.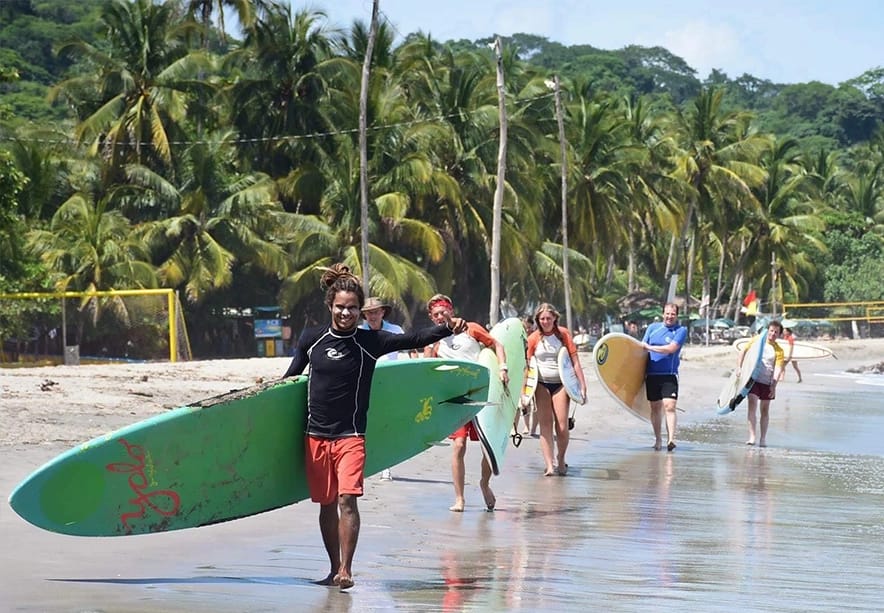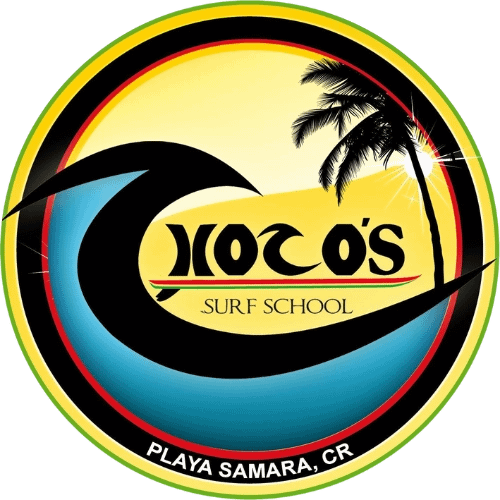 We Provide The
Best Surf Lessons

in Sámara, Costa Rica

Contact us today to book your surf lesson or package and start your surfing journey with Chocos Surf School.
What We Offer
Surfing Lessons
We offer a variety of surfing packages to suit your needs, including private lessons, group lessons, and surf camps.
Our lessons include surfboards and all the necessary equipment, so all you need to bring is your enthusiasm and sense of adventure.
All surf lessons include step-by-step instructions following the ISA protocol for surf instruction.
All lessons include 5 hours of additional board use while you're in Samara.
Private Lesson
90 min
Per lesson
Just one student per instructor
Semi-Private Lesson
90 min
Per lesson
Up to 2 students per instructor
Group Classes
90 min
Per lesson
3 or more students per instructor
Kids Classes
90 min
Per lesson
For kids at age of 12 and under
Choco's Surf Club
Do you need surfing lessons and a board?
We offer packages of 4 private lessons and surfboard use for 30 days.
For beginners, we start with the basics and safety. For more experienced surfers, we can show you more advanced techniques, tricks and take you to different breaks in the area. You'll be riding the waves in no time when you learn at Choco's Surf School!
Having a knowledgeable, friendly and professional instructor makes all the difference in learning to surf. If you already surf, come hang out with us or rent a board.
Our Certified Instructors
Our Amazing Surfers
Our experienced instructors are all certified by the International Surfing Association (ISA), are trained as lifeguards/Ocean Rescue, have years of successful teaching experience, are bilingual, are passionate about surfing, and are dedicated to helping you improve your skills in a safe and enjoyable environment.
We provide personalized instruction and guidance to help you achieve your surfing goals and experience the thrill of catching a wave.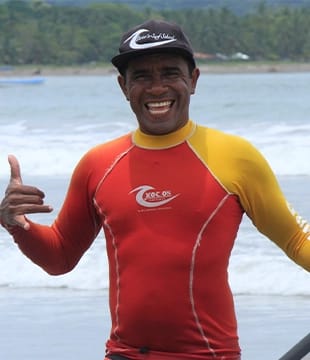 Alex Gómez (Choco) – Owner
Choco – The Founder
Choco was one of the first surfers in Samara. He and a small group of guys began surfing in the late 1980s. He later went on to surf in National Competitions (Circuito Nacional de C.R.) for many years. He currently is ranked #2 in Costa Rica in Longboard (2013-2015) and represented Costa Rica in the 2013 World Longboard Competition in Huanchaco, Peru. Previously, he was Pre-Selected to represent Costa Rica in the Billabong World Surfing Tournament in 2008 and he also represented Costa Rica in Central America's Surfing Competition in Playa Veneo, Panama, in November 2013. In December 2015, he represented Costa Rica in the PanAmerican Games in Nicaragua.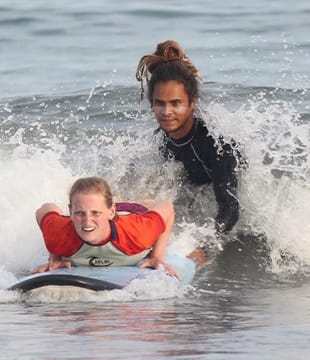 "Choco"s is the best!!! The instructors are terrific and made my son's experience in Samara truly special. They treated him like a friend and encouraged him by pointing out what he was doing well, and yet putting fun at the forefront of the experience. They were also very nice to me, his mom, and made me feel welcome as well even though I am not a surfer. I wish I could bring the Choco guys to our neighborhood in Philadelphia- they are great role models and overall amazing humans! Don't miss Choco's when you're in Samara 🙂"

" Ya! It was fantastic! I had my family of four, including a nine-year-old and a sixteen-year-old, and we all got up on our boards first go thanks to excellent instruction of Jose! Thanks, Jose!
Jose spent tons of time with us, got us started and then got us coming back for the rest of the week. He'd even throw us a few hints after the lesson. Plus, I was really happy to watch him working the waves one afternoon! "

"Our experience with Choco's Surf School, and especially our instructor, Andrey, was fabulous. My family highly recommends them if you are looking to learn to surf, whether you are looking for a fun 1-time experience or longer-term training. We were in Sámara for 3 months and before choosing Choco's, we met lots of people taking lessons with different surf schools. Based on our personal experience and that of friends, we feel confident Choco's was a great choice."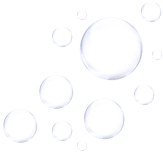 Shaggy passed away in April 2012 unexpectedly. We miss his vivacious spirit and love of life. He taught hundreds of people to surf and to laugh while learning a new sport. Shaggy began surfing when he was ten years old. His natural ability and drive were highlighted in 2007-2008 when he won First Place in his category in Costa Rica's National Surfing Competition (Circuito Nacional de Surfing). Since his win, he has continued participating in local and national competitions. A favorite with tourists for his quick humor and effortless English, he has been giving classes since 2008. When he was not working, he surfed and studied English.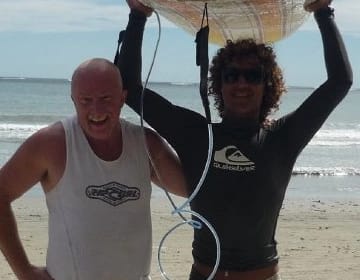 Our Gallery
Get Some Impressions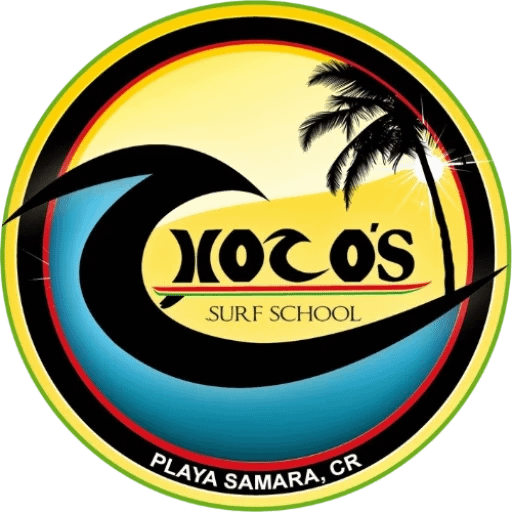 At the beach, in front of the Sherrif Rustic Restaurant, Sámara Beach, Guanacaste, Costa Rica.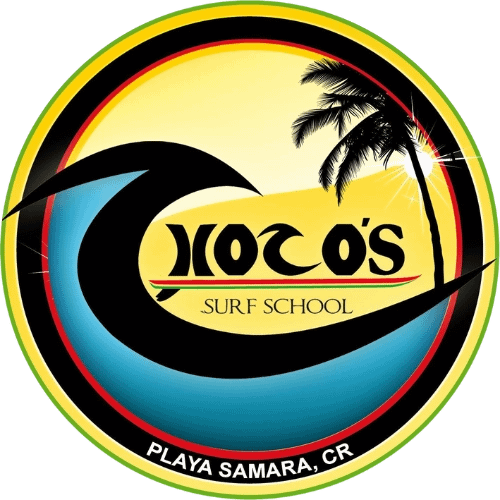 Chocos Surf School in Sámara Beach. Learn to surf in Sámara, Costa Rica. Surfing lessons and rentals. Instructors are bilingual and certified by ISA.